What is Bioheat® fuel?
Beyond saving you money,
Bioheat® fuel is just better.
Made with renewable resources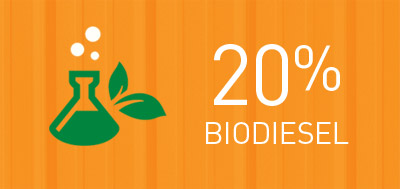 Connecticut's Bioheat® home heating fuel contains up to 20% biodiesel. It is a safe, renewable energy resource made domestically from agricultural products that don't disrupt food supplies. Bioheat® fuel is non-toxic, biodegradable and promotes better air quality by reducing greenhouse gas emissions. It also provides a cleaner, more energy efficient burn. The more renewable energy we use, the less impact there is on our planet.
American grown
The overwhelming majority of heating fuel comes from North America. The domestic production of Bioheat® fuel supports $16.8 billion in total economic impact, more than 62,000 jobs and $2.6 billion in wages paid.1
1oilheatamerica.com
Connecticut delivered
Bioheat® fuel is delivered by the same family-owned businesses people have trusted for decades. Beyond just providing warmth, Bioheat® fuel retailers help their communities in so many ways – with everything from energy assessments to heating equipment tune-ups. You're off to a great start heating with Bioheat® fuel.


Contact a Bioheat® retailer and find out what blends are offered in your area. Enter your county name for a list of Bioheat® retailers near you.
ENERGY EFFICIENCY SWEEPSTAKES
OFFICIAL RULES
NO PURCHASE NECESSARY. A PURCHASE WILL NOT INCREASE YOUR CHANCES OF WINNING. A VALID EMAIL ADDRESS IS REQUIRED FOR ENTRY. SUBJECT TO ALL FEDERAL, STATE AND LOCAL LAWS AND REGULATIONS. OPEN ONLY TO LEGAL RESIDENTS OF CONNECTICUT, 21 YEARS OR OLDER.
The Energy Efficiency Sweepstakes ("Sweepstakes" or "Promotion") begins April 11, 2016 at 12:00:00 a.m. Eastern Time ("ET") and ends July 10, 2016 at 11:59:59 p.m. ET ("Promotion Period").
1. ELIGIBILITY
Promotion open only to legal residents of Connecticut who are twenty-one (21) years of age or older at the time of entry.Void outside Connecticut and where prohibited. Staff and members of Connecticut Energy Marketers Association (CEMA) (the "Sponsor"), employees of companies in the home heating fuel industry that are members of CEMA, and each of their respective parents, affiliates, subsidiaries, advertising and promotion agencies and prize providers ("Sweepstakes Entities") and their immediate family members and/or those living in the same household of each whether related or not are not eligible to enter or win.
2. HOW TO ENTER
Beginning 12:00:00 a.m. ET on 4/11/16, and throughout the Promotion Period, visit www.bioheatnow.com and follow the links and instructions to enter the Energy Efficiency Sweepstakes. All participants in the Sweepstakes will be required to complete an online entry form, providing first name, last name, valid email address and daytime phone number.
Before completing the official online entry form, you will be asked to participate in a short "test your knowledge" quiz, consisting of five (5) questions. This quiz is for information and fun only and your answers will not determine whether you are entered into the Sweepstakes, nor will your answers affect your odds of winning a prize in the Sweepstakes.
One (1) Sweepstakes entry per person/email address is permitted per day (12:00:00 a.m. ET - 11:59:59 p.m. ET). Completing an official online entry form is the only means of participating in the Promotion. Use of an artifice or device to enter more than once per day will result in voiding of all entries in excess of the initial entry on a given day; but, Sponsor reserves the right to disqualify from the Sweepstakes all together any persons who repeatedly and/or egregiously violate the entry limit as determined by Sponsor in its sole discretion. Receipt of entries may be acknowledged but such acknowledgment does not constitute any representation as to eligibility for the Sweepstakes nor is it otherwise binding upon Sponsor. Proof of submission of entry does not constitute proof of receipt of same.
Sponsor and its agencies are not responsible for late, lost, garbled/undecipherable, misdirected, incomplete, inaccessible, corrupted or invalid entries, which will be disqualified. In the event of a dispute as to identity of an entrant, the authorized account holder of the email address used to enter will be deemed the entrant. The "authorized account holder" of an email address is the natural person assigned this email address by an internet access provider, online service provider or other organization responsible for assigning e-mail addresses for the domain associated with the submitted address.
3. SELECTION OF WINNERS.
There are a total of thirteen (13) Weekly Prizes. Weekly Prize Winners will be selected in weekly random drawings (each a "Weekly Drawing") from among all eligible entries received during the Weekly Drawing entry periods, as detailed below. Each Weekly Drawing will occur on or about two (2) business days after the end of the applicable Weekly Drawing entry period.
Weekly Drawing
Entry Period
Entry Period Schedule
[all times are Eastern Time (ET)]
#1
April 11, 2016 at 12:00:00 am thru April 17, 2016 at 11:59:59 pm
#2
April 18, 2016 at 12:00:00 am thru April 24, 2016 at 11:59:59 pm
#3
April 25, 2016 at 12:00:00 am thru May 1, 2016 at 11:59:59 pm
#4
May 2, 2016 at 12:00:00 am thru May 8, 2016 at 11:59:59 pm
#5
May 9, 2016 at 12:00:00 am thru May 15, 2016 at 11:59:59 pm
#6
May 16, 2016 at 12:00:00 am thru May 22, 2016 at 11:59:59 pm
#7
May 23, 2016 at 12:00:00 am thru May 29, 2016 at 11:59:59 pm
#8
May 30, 2016 at 12:00:00 am thru June 5, 2016 at 11:59:59 pm
#9
June 6, 2016 at 12:00:00 am thru June 12, 2016 at 11:59:59 pm
#10
June 13, 2016 at 12:00:00 am thru June 19, 2016 at 11:59:59 pm
#11
June 20, 2016 at 12:00:00 am thru June 26, 2016 at 11:59:59 pm
#12
June 27, 2016 at 12:00:00 am thru July 3, 2016 at 11:59:59 pm
#13
July 4, 2016 at 12:00:00 am thru July 10, 2016 at 11:59:59 pm
For the avoidance of doubt, non-winning entries from each Weekly Drawing will NOT be retained for subsequent Weekly Drawing(s).
All random drawings will be conducted by an independent judging organization whose decisions are final and binding in all respects. Potential winners will be notified by emailand/or telephone, in Sponsor's sole discretion, within seven (7) days after the entry deadline for the applicable Weekly Drawing entry period.
Only one Weekly Prize permitted per person/household/email address.All entrants selected in the Promotion as prize winners are subject to verification of eligibility and compliance with the terms of these Official Rules.
Potential Prize winners may be required to complete and return an Affidavit of Eligibility, Release of Liability, Prize Acceptance Form and, if legally permissible, a Publicity Release within five (5) days of first attempted notification. Potential Prize winner agrees that an electronic signature shall have the same legal force and effect as signing these documents by hand. Noncompliance within this time period (if applicable) or return of prize/prize notification as undeliverable may result in disqualification without further notice and an alternate winner selected from among all remaining eligible entries received for the applicable Weekly Drawing.
Odds of winning a prize will depend upon the total number of eligible entries received for the applicable Weekly Drawing.
4. PRIZES AND APPROXIMATE RETAIL VALUE
Weekly Prize (13): Each Weekly Prize First Prize consists of one Honeywell RTH9580WF Wi-Fi Color Touchscreen Thermostat. Approximate Retail Value (ARV): $200.00.
All unspecified expenses in conjunction with acceptance and use of prize (e.g., installation of thermostat as well as wireless internet access) are the winner's sole responsibility. All taxes (if applicable) on prize won are the prize winner's sole responsibility. No prize substitution except by Sponsor in its sole discretion due to prize unavailability for any reason and only then for prize of equal value. Prize is not redeemable or exchangeable by winner for cash.
Brand names are used for prize description purposes only. No endorsement or sponsorship is intended or implied by such use.
5. GENERAL RULES
All federal, state and local laws and regulations apply.
By entering the Promotion, each entrant agrees: (i) to be bound by these Official Rules and by all applicable laws and decisions of Sponsor/the independent judging organization, which shall be binding and final in all respects; (ii) to waive any rights to claim ambiguity with respect to these Official Rules; (iii) to waive all of his/her rights to bring any claim, action, or proceeding against any of the Sweepstakes Entities in connection with the Sweepstakes; and (iv) to forever and irrevocably release, defend, indemnify, and hold harmless each of the Sweepstakes Entities and their respective officers, directors, employees, agents, shareholders, representatives, successors and assigns (collectively the "Releasees"), from any liability (including, but not limited to, liability for defamation, libel, slander, invasion of privacy, infringement of publicity or any intellectual property rights, any property loss, damage, personal injury, bodily injury, death, expense, accident, delay, inconvenience or irregularity, and any indirect, incidental, consequential, special, punitive or exemplary damages of any kind even if the Releasees have been advised of the possibility of such loss or damages), costs and expenses (including, without limitation, reasonable outside attorneys' fees) that may arise in connection with: (a) the Sweepstakes, including, but not limited to, any Sweepstakes-related activity or element thereof, and the entrant's entry, participation or inability to participate in the Sweepstakes, (b) the violation of any third party privacy, personal, publicity or proprietary rights, (c) typographical errors in these Official Rules or any Sweepstakes promotional materials, (d) acceptance, defects in, delivery of, use, misuse or inability to use any prize (or any component thereof), (e) any change in the prizing (or any components thereof) due to unavailability, business or creative considerations, or due to reasons beyond Sponsor's control, (f) any wrongful, negligent, or unauthorized act or omission on the part of any of the Sweepstakes Entities, or any of their agents or employees, (g) lost, late, stolen, misdirected, damaged or destroyed prizing (or any element thereof) or (h) the collection, use and/or sharing of entrant's personally identifiable information by Sponsor or its designees. Winner assumes all liability for any injury or damage caused, or claimed to be caused, by participation in this Sweepstakes or use or redemption of prize. All prizes are provided as-is without warranty, representation or guarantee of any kind, including but not limited to the warranty of merchantability or fitness for intended purpose.
In the event there is a discrepancy or inconsistency between disclosures or other statements contained in any Sweepstakes materials and the terms and conditions of the Official Rules, the Official Rules shall prevail, govern and control. Sweepstakes Entities are not responsible for any typographical or other error in the printing of the offer, administration of the Sweepstakes or in the announcement of the prize winners.
NOTICE TO ENTRANTS: ANY ATTEMPT BY AN INDIVIDUAL TO DELIBERATELY DAMAGE ANY WEBSITE OR UNDERMINE THE LEGITIMATE OPERATION OF THIS PROMOTION IS A VIOLATION OF CRIMINAL AND CIVIL LAWS, AND SHOULD SUCH AN ATTEMPT BE MADE, SPONSOR RESERVES THE RIGHT TO SEEK DAMAGES FROM ANY SUCH INDIVIDUAL TO THE FULLEST EXTENT PERMITTED BY LAW.
Releasees are not responsible for faulty, incorrect or mistranscribed email transmissions, incorrect announcements of any kind, technical hardware or software failures of any kind including any injury or damage to any person's computer or other device (or data/information contained thereon) related to or resulting from participating in or experiencing any materials in connection with the Promotion, lost or unavailable network connections, or failed, incomplete, garbled or delayed computer or phone transmission that may limit a user's ability to participate in the Promotion. Sponsor reserves the right in its sole discretion to cancel, suspend or modify the Promotion if fraud, misconduct or technical failures destroy the integrity of the Promotion or impair the operation of the Promotion in whole or in part; or if a computer virus, bug, or other technical problem corrupts the administration or security of the Promotion as determined by Sponsor, in its sole discretion. In such event, Sponsor will make the prizes available to be won in a manner determined by Sponsor in its sole discretion to be fair, appropriate and consistent with these Official Rules. This includes conducting one or more affected Weekly Drawings from among all eligible entries received prior to the action taken by Sponsor. Notice of any such action by Sponsor will be posted on www.bioheatnow.com. Proof of submitting entries will not be deemed to be proof of receipt by Sponsor. Any entries which are suspected of being fraudulent (including those using robotic, automatic, programmed or similar methods of participation) will be disqualified, based on determinations made solely by Sponsor and its agency. Sponsor reserves the right to prohibit the participation of an individual if fraud or tampering is suspected or if the account holder fails to comply with any requirement of participation as stated herein or with any provision in these Official Rules.
6. WINNERS' LIST For the first name and last initial of Prize Winners, send an email with Subject Line: Energy Efficiency Sweepstakes to WinnersList@berlinproductions.com. Requests must be received by 5:00:00 p.m. ET, July 20, 2016.
7. DISPUTES
Sweepstakes, including construction, validity, interpretation and enforceability of these Official Rules shall be (1) governed by the laws of the State of Connecticut without regard to choice of law or conflict of law principles which would cause the application of the laws of any jurisdiction other than the State of Connecticut; (2) any dispute, claims and causes of action arising out of or connected in any way with the Sweepstakes or the awarding of prizes shall be resolved individually, without resort to any form of class action, and brought exclusively in a federal or state court in Connecticut; (3) any and all claims, judgments and awards shall be limited to actual out-of-pocket costs incurred, including costs associated with entering this Sweepstakes (if any), but in no event attorneys' fees; and (4) under no circumstances will entrant be permitted to obtain awards for, and entrant hereby waives all rights to claim, indirect, punitive, incidental and consequential damages and any other damages, other than for actual out-of-pocket expenses (if any), and any and all rights to have damages multiplied or otherwise increased.
SPONSORED BY: Connecticut Energy Marketers Association, 10 Alcap Ridge, Cromwell, CT 06416
© 2016 CEMA. All rights reserved.